NASCAR Kinetics grows to 18 colleges for '12: New season brings fresh marketing perspectives from student-driven program
DAYTONA BEACH, Fla. -- NASCAR Kinetics: Marketing in Motion kicks off the 2012 season by welcoming 18 partner schools from across the U.S. This innovative case-study competition gives college students the opportunity to work through real-world business challenges and scenarios provided by NASCAR and its various industry stakeholders, such as official partners, teams and tracks.
"Anytime we at NASCAR have the opportunity to encourage hands-on experiences, like NASCAR Kinetics provides, to young aspiring motorsports executives, we are in full support," said Steve Phelps, senior vice president and chief marketing officer. "Our hope is that students utilize the marketing strategies and team concepts they learn to create opportunities to shine in the motorsports industry."
VSU NASCAR Kinetic Member, Alana Dawson & VSU Student (Above)
Since 2009, college students across the nation have spent a semester immersed in the NASCAR brand through NASCAR Kinetics. This grassroots program began with four schools and has grown to become NASCAR's largest college initiative with 18 schools this semester.
This semester's first case studies will ask students to create a comprehensive sales and marketing strategy that will help increase Fathead sale of NASCAR-related merchandise. The second will challenge each team to deliver creative ideas that will help Camping World strengthen its relationship with NASCAR and promote its products at-track, in stores and online. The final stage of the competition, the viewing parties, all will be hosted in conjunction with M&M'S and will serve to celebrate the colorfulness of the M&M'S characters and NASCAR.
"We are thrilled to be a part of the NASCAR Kinetics program," said Joanna Cline, Fathead's chief marketing officer. "The participating students have refreshing perspective and creative solutions to the marketing challenges presented."
"We are extremely excited to be partnering with NASCAR for this semester's NASCAR Kinetics program," said Marcus Lemonis, chairman and CEO, Camping World/Good Sam Enterprises. "The NASCAR partnership is a key component of our overall marketing landscape, and we're eager to tap into the students' ingenuity for potential ideas on how to better connect the fan with our brand, products and services."
This semester, Kinetics is available at the following 18 schools across the country: Belmont Abbey College, Centenary College, Central Michigan University, Coastal Carolina University, East Tennessee State University, Elon University, High Point University, Indiana State University, Ohio State University, Ohio University, Oklahoma State University, Southern New Hampshire University, Troy University, University of Central Florida, University of Florida, University of Miami, University of Oregon and Virginia State University.
Team VSU NASCAR Kinetics & VSU Students make a "Pit-Stop" at the Reginald F. Lewis School of Business at Virginia State University (Below)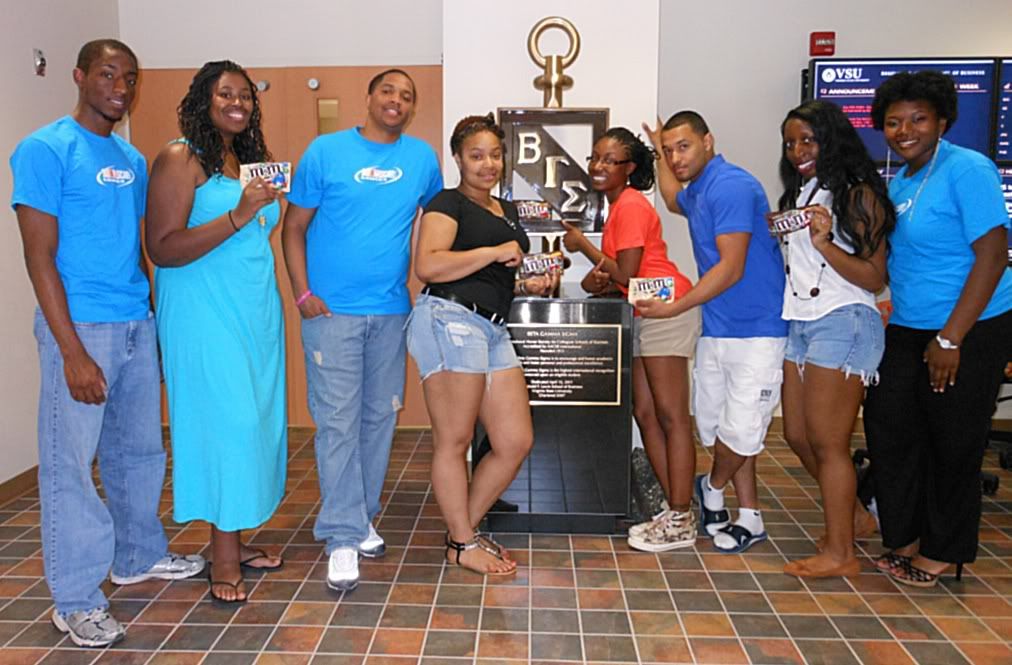 NASCAR Kinetics is available every fall and spring semester to teams of five students who are chosen from each participating school. Eligible students must be at least a sophomore with a minimum 2.75 GPA and pursuing a degree or concentration in sport management, business, management, marketing, public relations, communications, journalism, advertising or broadcasting. These students work together to produce one submission for each case study, while concurrently planning and executing a viewing party of a Sprint Cup Series race.
While the teams are competing for the grand prize of an all-expense paid trip to the NASCAR All-Star Race weekend in Charlotte, N.C., the greater reward is the invaluable experience that serves to build their resume as they finish school and begin their careers.
For more information on NASCAR Kinetics, please refer to the new website: http://nascarkinetics.com/.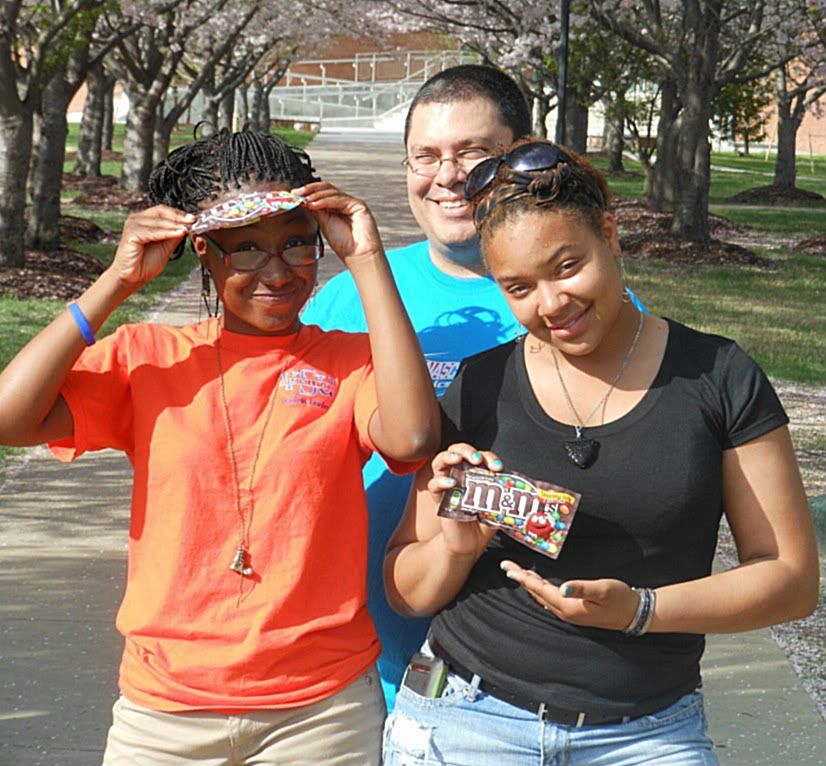 VSU NASCAR Kinetic Team Leader, Fernando Pantoja, on the "Yard" of Virginia State University with VSU Students (Above)